Band Members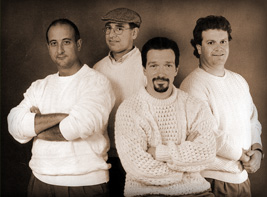 From left to right: Founding members Seamus, Anthony, Vincent, and Bobby Malarkey. The boys landed on the Philadelphia scene in 1986. A long history performing in the area's Irish pubs and their popular music CD's have gained a loyal fan base near and far.
Seamus Malarkey (Vocals, Guitar, Tin Whistle, Saxophone, Spoons): Versatility, talent, and a sharp Irish wit. Seamus brings humor, showmanship, and a vast array of instruments to every gig.
Anthony Malarkey (Drums): Simply the best drummer in the business. Anthony is our Irish beat. As an added bonus, Anthony gets to view the best side of Seamus at every gig.
Vincent Malarkey (Vocals, Acoustic Bass, Guitar): Our very own Irish tenor. Vincent combines his velvety vocals with a real talent on the big standup bass and guitar.
Bobby Malarkey (Vocals, Piano, Accordion, Keys): A powerful voice and the man with all of the keys. On accordion, Bobby is now able to move from behind that piano to show his many dance moves.
Gina Malarkey (Violin): Violinist extraordinaire, Gina has performed with renowned artists such as Billy Joel, Josh Groban, Michael Buble, The Roots, and Cage the Elephant. Lucky for us, she most enjoys playing with the Malarkey Brothers!
Keith Malarkey (Electric Bass, vocals): Our newest band member, Keith brings an incredible talent on electric bass with soulful vocals that really rounds out our sound.